COVID-19: Travelling to Singapore
The Vaccinated Travel Framework allows quarantine-free travel to Singapore via air.
Key information on the framework and documents required can be found here:
---
In general, below is a summary of what you may need to do:
Obtain an acceptable proof of vaccination.

Ensure that you are fully vaccinated with WHO EUL COVID-19 vaccines.
Please ensure that your vaccination status is recognised for entry in Singapore.

Apply for visa (if required).
Purchase your own travel/medical insurance, which covers COVID-19.
Fill up SG Arrival Card 3 days before arrival.
Install and activate the Trace Together app. The Trace Together app is the national app for use for entry to places which requires proof of vaccination status.
In your home country, subscribe to your mobile phone operator for data roaming services in Singapore or purchase a SIM card for use in Singapore. This is to facilitate you to use the Trace Together app in Singapore.
In your home country, you may wish to purchase and bring your own self-test ART kits. List of ART kits authorized for use in Singapore. If you need to purchase the kits in Singapore, it is available in convenience stores, pharmacies and supermarkets.
Please always refer to the official Singapore government website for the most up-to-date information.
---
It is mandatory for all persons who are 6 years and above to wear a mask for indoor settings.
Mask-wearing is optional in outdoor settings.
Note that face coverings such as neck gaiters, bandannas, scarves or handkerchiefs are not considered as masks.
In your home country, purchase and bring your own masks.
If you need to buy more masks, it is easily and readily available at convenience stores, pharmacies and supermarkets.
---
---
General Information on visiting IMS
Arrival
Upon arrival at IMS, participants who receive funding from the institute are requested to check in with our program administrators to follow up on the paperwork necessary for the funding support.
Building Hours
The Institute doors are open between 8:30 am and 5:30 pm, Monday to Friday. Participants have access to our Visitor's Lounge 24 hours a day, 7 days a week. A passcode will be required for access after office hours. When entering or leaving the building after office hours, please do not let people who are unfamiliar to you enter the building.
Offices and Common-Area Workstations: Visitors who have been assigned offices should get their office key from the program administrators. Please return us your keys before you leave the institute at the end of your visit.
There are three iMacs at the common area at Level 1 in the Visitor's Lounge.
Libraries
IMS carries a small collection of books and texts acquired through donations from various publishers and individual mathematicians, which are available for circulation only to participants and on-site reading. Our Lecture Note Series are also available in our library.
For operating hours of the libraries around NUS, visit here.
All NUS staff and students are automatically members of NUS Libraries. Non NUS persons who wish to use NUS Libraries may apply for external membership.
For libraries in Singapore, visit here.
Fire Safety
Should a fire alarm sound, you are required to vacate the building immediately. Please familiarize yourself with the exits near you.
Smoking
IMS is a non-smoking environment. University premises are designated as "smoke free" zones, and this policy is enforced by the Office of Campus Security.
WiFi
Visitors to the IMS may connect to internet via eduroam or NUS Guest Wifi. All visitors to IMS will be given NUS Guest Wifi access.
Within/near the university campus:
Within Singapore:
The SCDF operates a 24-hour Emergency Medical Service (EMS), which is ready to answer to any emergency at any part of Singapore. When there is an emergency on hand, dial 995 to call for an SCDF ambulance. For non-emergency ambulance, call 1777.
Health Insurance: Participants from overseas visiting IMS are required to have adequate health insurance. Medical bills are not reimbursable for visitors and their accompanying family members.
Visa and Entry Requirements to Singapore
Participants must have a valid passport to enter Singapore and should consult this page to determine whether they are required to have a visa to enter Singapore.
Please ensure your passport has a minimum validity of six months at the time of departure. Visitors whose passport has less than six months' validity are reminded to apply for renewal of their passports early to avoid inconvenience from delays in processing of visa applications.
IMS will not submit a visa application for you via Submission of Application for Visa Electronically (SAVE). Please submit your visa application at the nearest Singapore Overseas Mission or through the authorized visa agents of the Overseas Missions. The full list of Overseas Missions can be found here.
Electricity (Socket and Power Plug)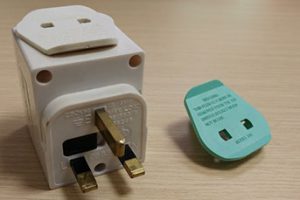 The standard voltage in Singapore is 220V/240V, 50 Hz. The power plugs used in Singapore are of the three-pin, square-shaped type (British BS1363). Please check and bring along the additional transformer/ adaptor if required.
The official currency of Singapore is SGD (Singapore Dollars).
Credit cards are generally not used to purchase tickets for public transport or at smaller shops/food joints (food courts, hawker centres). Do prepare some cash with you for shopping and dining.
Apart from Changi airport, foreign exchange services are available islandwide to convert major currencies into SGD.
Places near to NUS with money changers include:
One@KentRidge

Nearest MRT station Kent Ridge

The Clementi Mall

Nearest MRT station Clementi

Holland Village

Nearest MRT station Holland Village
Getting around in Singapore
Transport Apps
News
Local Weather
Parks & Nature Reserves
Singapore Statutory Boards